Setup Gaming #24
Introducing Alexender P's gaming setup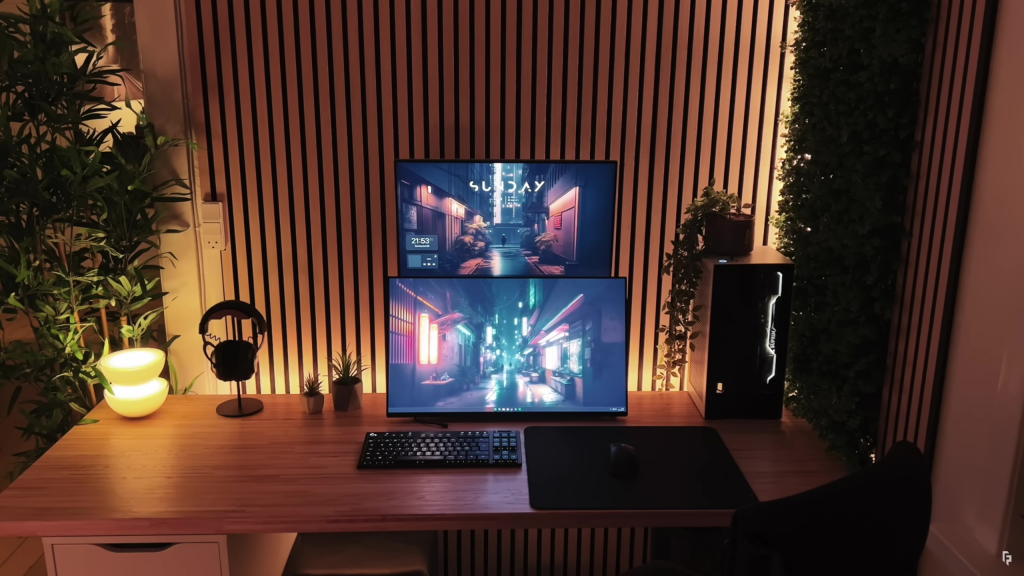 Introducing Alexender P's gaming setup, a minimalist-style gaming space with everything you need. You'll find all the references for furniture, components and accessories at the bottom of the article.
This setup by Alexender P is mainly made up of Ikea furniture and decor. This gaming and work environment has two screens superimposed vertically, the bottom one a 27" and the top one a 24". This type of screen layout is relatively practical for having all windows, streams and conversations in the same field of vision.
The computer consists of a compact NZXT H1 V2 case. This type of case is practical for being more discreet, and fits in perfectly with the wood-slat décor. Unfortunately, ventilation is more limited and the type of graphics card with a compatible format is rather rare for large configurations. So pay attention to the size of your GPU.
Inside, you'll find a wireless MSI B650I Edge motherboard, an AMD Ryzen 7 processor and G.Skill memory. The graphics card is an RTX 3080 Suprim X, which is excellent for playing all types of video games.
Peripherals in this workspace include a Razer Deatyhadder V3 Pro mouse, a Logitech G915 Lightspeed TKL keyboard and a Zowie G-SR Mousepad. On the audio front, the setup is equipped with Logitech Prox X headphones.
All the furniture and much of the decoration comes from Ikea. It's a great way to create a gaming setup at lower cost. A Karlby Ikea board on two legs and an Alex desk are just two examples. The plants are also from Ikea, all Fejka models.
Two Philips hue Go Portable lamps are superimposed on the desk to give it a candlelit look. Other Philips hue light strips are also behind the desk and on the right-hand side.
The background of the setup is made of MDF wall panels, which are relatively easy to install and affordable. This type of background provides the essential atmosphere for this setup and makes decorating very simple. The wallpaper used comes from the Wallpaper Engine software available on Steam.
Vous souhaitez nous présenter votre setup gaming, rien de plus simple, uploadez vos photos sur Imgur et contactez-nous avec le lien Imgur des photos ainsi que la description de votre matériel et bureau. N'oubliez pas de nous donner vos liens YouTube, Twitch, Instagram et Twitter afin de les publier.